Posts from —
July 2011
This has happened before with the notorious Pharma Hack that hit WordPress sites last year. It was a nightmare cleaning it all up and hardening the site. After that happened, I started an account with HostGator and moved some of my sites there. I left this site on Dreamhost with some sites that I run for other folks. I wanted to compare the two hosting services. Hostgator is far more secure but pages hosted there load VERY SLOWLY and you lose traffic. Also, they have this ridiculous practice of not backing up your files. Sites at Dreamhost load fast. In fact, they load up to five times as fast as HostGator BUT Dreamhost seems to be a cesspool of hacking. Nothing is secure there.
I'm in the middle of a bit of a crisis in the real world with my brother in the hospital and his wife who has dementia going off the deep end, so fixing this site will have to wait until I have my brother home and safe with a care-giver. The hack is not malware and it will not hurt you. Links to not so nice sites that are not G rated have been placed on some pages.
If you see strange things happening here, it is happening because I'm cleaning up the mess. I apologize.
UPDATE: I've removed the nasty links from the offending pages but I have not had time to reset the security so they may come back.
UDATE No. 2: FYI for anyone else experiencing this hack, the links were hidden in a file named cashe.php. That is not a typo.  The code to call it was in the header.php. Delete cashe.php and upload a clean copy of a header.php and the offensive links will be removed.
UPDATE No. 3: The vector for the hack appears to be in the main .htaccess file. I'm restoring that now. Hopefully, this will be the final chapter in another hacking story.
Last UPDATE: Google has finally crawled the pages that were displaying the foul links and all is clear. I try to keep everything that I do online strictly G rated and it was painful to see such revolting items in the keywords used to find this site.  At least 80% of the people using the offensive search terms, were from Iran. What does that say about oppressive regimes?
July 28, 2011 Comments Off on The Medieval Scriptorium Has Been Hacked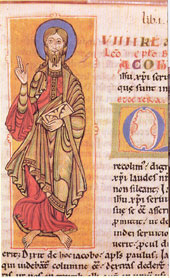 One of the rarest and most beautiful illuminated manscripts dating from the 12th century is missing from the cathedral of Santiago de Compostela. It is the Codex Calixtinus. The miniature of Saint Jacob above is from this guidebook. It is a book that will literally take your breath away with it's beauty.  Here is the link to the story on the BBC News site.
Here is a second link to the story in the Guardian with a beautiful leaf from the codex.
July 7, 2011 3 Comments