Posts from —
September 2007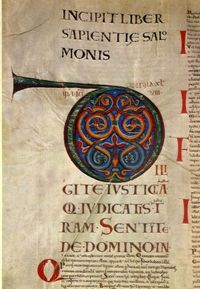 The Devil's Bible or Codex Gigas is the biggest medieval book in the world.  It has a fascinating history and legend.  It will be on public display for the first time in many years at the National Library of Sweden on September 20th. From The Prague Post:
…legend holds that a monk was sentenced to be buried alive for a breach in Benedictine conduct. In order to forgo his punishment, he agreed to make the most magnificent book the world had ever seen in honor of his brotherhood. The catch was that he was given just one night to complete this Herculean task.

Around midnight, the monk realized he would not be able to finish by daylight, so he invoked the devil to help him, selling his soul in the process. As a tribute to his helper, the monk included a quirky image of the devil within the manuscript, thus giving the book its nickname.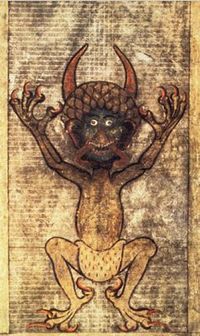 This medieval illuminated manuscript is extremely important. It's size alone makes it unique. From The Prague Post:
Made of the skins of about 160 animals — some say donkeys, others say calves — the manuscript measures a king-size 90 x 50 x 22 centimeters (roughly 36 x 20 x 9 inches) and weighs 75 kilos (165 pounds), requiring two people to lift it.
 It was first mentioned towards the end of the 13th century and probably dates from the early years of that century.  Analysis of the writing style have led to the hypothesis that the book is the work of an individual scribe.
However, what is most important about this phenomenal work is the content. From The Prague Post:
The leather parchment pages contain both the Old and New Testaments of the Bible in pre-Vulgate Latin and much more: a Penitential (a priest's manual of sins and suitable penance); Isidore of Seville's Etymologiae, a 20-volume encyclopedia from the seventh century; Josephus' Antiquities of the Jews; a necrology of the Podlažice monastery as well as a list of all the living monks in Podlažice; and numerous texts of mystical incantations for everything from curing illnesses to catching thieves.
Individuals swayed by mystical thinking believe the incantations in the manuscript have real power and, when the Devil's Bible was displayed many years ago at the National Museum of Sweden, it was attacked. Thus, considerable security and secrecy surround the current display. For more information on this beautifully illuminated manuscript, visit the National Library of Sweden website.
[tags]codex gigas, devil's bible, national library of sweden, illuminated manscript, medieval manuscript, medieval scribe[/tags]
September 13, 2007 Comments Off on The Devil's Bible or Codex Gigas Goes on Display September 20th