News – Codex Calixtinus Stolen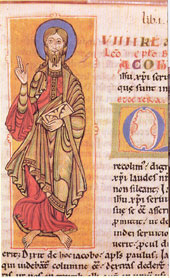 One of the rarest and most beautiful illuminated manscripts dating from the 12th century is missing from the cathedral of Santiago de Compostela. It is the Codex Calixtinus. The miniature of Saint Jacob above is from this guidebook. It is a book that will literally take your breath away with it's beauty.  Here is the link to the story on the BBC News site.
Here is a second link to the story in the Guardian with a beautiful leaf from the codex.