The Vatican Library – The Pope's Library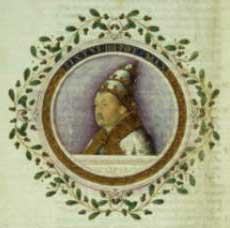 Since the Pope is visiting, I thought I'd call attention to the Vatican Library Exhibit on the Library of Congress web site. It's a very informative short history of Rome and the library with a gallery of book manuscripts including many that are illuminated. The history of the Vatican Library is a fascinating story and what book lover hasn't imagined roaming those stacks and finding a long lost book? From the Library of Congress page:
The Vatican Library, in fact, became a center of the revival of classical culture known as the Renaissance. Its librarians were often distinguished scholars. Historians and philosophers, clerics and magicians visited the collections and borrowed books from them. By 1581, when the French writer Michel de Montaigne visited Rome, the treasures of the Vatican had become a mandatory stop on any well-informed traveller's Roman itinerary. To his delight, Montaigne was shown ancient Roman and ancient Chinese manuscripts, the love letters of Henry VIII, and the classics of history and philosophy (many of which can be seen in this exhibition). Then, as now, the Vatican Library was one of the greatest in the Western world.