The Book of Kells in the News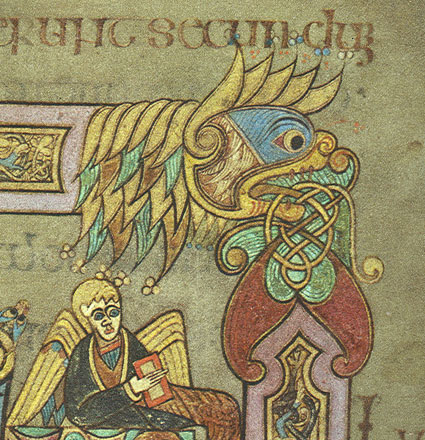 There may be no more famous example of an illuminated manscript than the Book of Kells. While it is well known as one of the most beautiful surviving illuminated manscripts, surprisingly, very little is actually known about the manuscript and its origins. Finally, modern science will be used to learn more about this treasure. From the Dublin Journal as reported in the New York Times:
Experts at Trinity College in Dublin, where the Book of Kells has resided for the past 346 years, are allowing a two-year laser analysis of the treasure, which is one of Ireland's great tourist draws.

The 21st-century laser technology being used, Raman spectroscopy, encourages hopes among those with a romantic view for an ecclesiastical intrigue like "The Da Vinci Code" or "The Name of the Rose."

But the precise subjects are more mundane. The laser will study the chemicals and composition of the book, its pigments, inks and pages of fine vellum. Experts estimate that 185 calves would have been needed to create the vellum on which the art and scriptures were reproduced.
This news happens to coincide with the opening of The Medieval Scriptorium's on-line gallery of images from the Book of Kells. I have to admit that the gallery is not complete. I haven't had time to finish all of the captions for the images but I decided to introduce it in this post in light of the recent story referenced above.
[tags]Book of Kells, illuminated manuscript, celtic, calligraphy[/tags]