Medieval Scribe, John Myronas, a 13th Century Parchment Recycler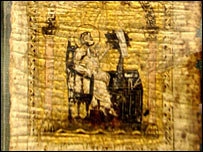 Yet another layer of history has been discovered in a Christian prayer book attributed to John Myronas. The most recent discovery is the third layer of text discovered in this recycled 13th century manuscript. In 2002, modern multi-sectional and multi-spectral imaging methods discovered greek writings from the 4th century. An article in the National Geographic News describes the earlier find:
In 2002 researchers had uncovered writings by the mathematician Archimedes and the fourth-century B.C. politician Hyperides.

Last year one of the pages was found to contain a famous work by Archimedes about buoyancy that had previously been known only from an incomplete Latin translation.
A third layer has been been revealed and the details were presented today at the meeting of the American Philosophical Society by Reviel Netz and Roger Easton. From the BBC:
A series of clues, such as spotting a key name in the margin, led the team to its conclusion.

"The philosophical passage in the Archimedes Palimpsest is now definitely identified as a relatively early commentary to Aristotle's Categories," said Professor Netz.

He said that Aristotle's Categories had served as the foundation for the study of logic throughout western history.

Further study has revealed the most likely author of this unique commentary is Alexander of Aphrodisias, Professor Robert Sharples from the University College London told BBC News.

If this is the case, he said, "it gives us part of a commentary previously supposed lost by the most important of those ancient commentators on Aristotle".
From the National Geographic News:
n the 10th century a scribe had copied the ancient Greek manuscripts from papyrus scrolls onto parchment—thin leaves of treated animal skin.

Later the writing was washed out using a solvent such as orange juice and overwritten with new text—a process known as palimpsesting.

"In those days, parchment writing materials were so valuable that they were commonly reused when the book was considered out of date or if the subject was judged inappropriate or less valuable," Roger L. Easton, of the Rochester Institute of Technology, wrote in an email.

By the 12th century, pages from five different earlier works had been erased, overwritten, and compiled into a Christian prayer book, the Euchologion—what is now called the Archimedes Palimpsest.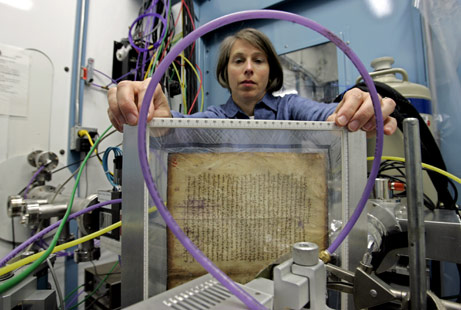 As always, books are multi-layered treasures. I wonder what else might be discovered in this 13th century prayer book?
[tags]Euchologion, Archimedes Palimpsest, Aristotle, Christian Prayer Book, 13th century, John Myronas, Philisophical Society, Archimedes, parchment, illuminated manscript[/tags]