The Bedford and Sobieski Books of Hours Now on Display at the British Library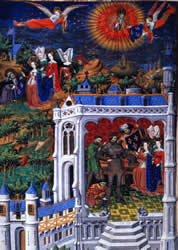 The Bedford Book of Hours is going to be on display at the British Library next week. This is one of the most magnificent illuminated manuscripts in the world. It dates from the early 15th century and every single page in the over 500 hundred page book of hours is illustrated. The illustrations and illuminations are vivid and lush. On display with the Bedford Hours is the Sobieski Hours. It is also from the early 15 century. Both illuminated masterpieces are credited to an artist known as the "Bedford Master." From the 24 hour museum:
The British Library is displaying two masterpieces of medieval art together for the first time in an exhibition celebrating the 15th century artist, the 'Bedford Master', and the collections of the manuscript owners.

Running until July 2 2007, The Bedford Hours: Owners and Illuminators, brings the Bedford Hours and the Sobieski Hours together, both lavishly illustrated medieval manuscripts by the Bedford Master (so called in honour of his noble patron the Duke of Bedford).
The 24 hour museum continues:
The identity of the Bedford Master remains uncertain, despite his having been among the leading and most prolific painters of his day. Some scholars tentatively identify him as the Alsatian artist Haincelin of Hagenau, recorded in Paris as a court painter to the Dauphin Louis de Guyenne.
This may very well be a once in a lifetime opportunity to see the very best examples of Gothic Parisian illumination. These books are the pinnacle of Gothic calligraphic art.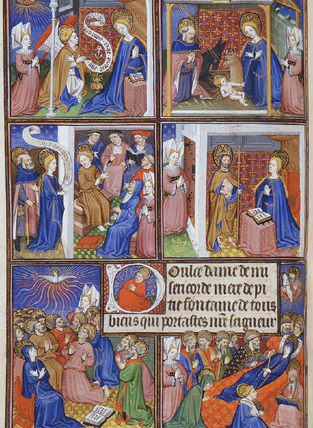 [tags]illuminated manuscripts, book of hours, bedford hours, sobieski hours, gothic alphabet, gothic calligraphy, british library[/tags]