The Book of Deer – Celtic Illuminations and the Oldest Known Gaelic from Scotland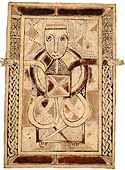 One of the most interesting Celtic manuscripts is The Book of Deer. It dates from the 10th century and is the earliest manuscript from an area of Scotland known as "former Pictland". The Book of Deer is considered particularily important for the notes written in Gaelic in the margins of the original text. The Gaelic "scribbles" are the earliest record of written Gaelic from Scotland. From The Book of Deer Project web page:
The Book of Deer is one of Scotland's most important manuscripts. It is a small (54mm x 107mm) Gospel Book, now housed in Cambridge University Library. Before c. 1100 it was apparently in the possession of the early Columban monastery at Old Deer in north-east Aberdeenshire. This monastery has otherwise left no trace of its existence. A Cistercian Abbey was founded nearby in 1219. The Book of Deer came into the ownership of Cambridge University Library in 1715, when the library of the Bishop of Ely and Norwich was presented to the former by George I. Before that, the Book of Deer may have been in the possession of Dr Gale, High master of St Paul's School (1672-97). The stages by which it moved from the North East of Scotland to the South of England are by no means clear. Even Cambridge University Library was unaware of its significance until it was 'discovered' in 1860 by the then librarian, Henry Bradshaw.
More information and images are available on The Book of Deer web page.