The Return of the Vita of St. Kentigern to Glasgow – A Continuing Mystery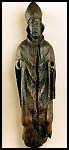 A book depicting the life of St. Kentigern, a sixth century saint, was commissioned in the latter part of the 12th century. The finished manuscript was kept in the Glasgow Catherdral and mysteriously disappeared 400 years ago. From the Medieval Sourcebook, here is a bit of the history of the celtic manuscript that vanished:
The oldest extant source for Kentigern is the fragmentary Life of Saint Kentigern. This life consists of a preface and eight chapters. The author is only describes himself as a cleric of St. Kentigern who had travelled a great deal, and the preface states that the life was composed at the request of Herbert, bishop of Glasgow from 1147 to 1164. The anonymous author said that he found his material for the Life of Saint Kentigern in a little book of his miracles and from oral tradition.
This fragmentary life was used at Glasgow for about 30 years. At that time a new life was written by Jocelyn, a monk of Furness Abbey in northern Lancashire. This life was written at the request of Bishop Jocelyn, who was Bishop of Glasgow from 1175 to 1199. Jocelyn, the author, was at Down in Ireland in 1185, and so it is likely that he wrote his Life of Saint Kentigern sometime before then, perhaps about 1180. Jocelyn also states that he used a little book, written in the Scottic style, as a source for his life, as well as the life already at Glasgow and oral tradition.
From the Evening Times:
It's a long-running whodunnit that's baffled investigators for 400 years – who stole Glagow's most historic book? The Vita St Kentigern – the story of the city's patron saint – disappeared from its home at Glasgow Cathedral four centuries ago. The culprit has never been traced, far less brought to justice. Now, finally, the book has returned …
Approximately 300 years ago, a copy of the original manuscript was acquired by Archbishop Marsh of Dublin and it was held safely in that library until two years ago when the book was scanned and used to create four new copies of the ancient hagiography. Thus, after 400 years the story of the life of St. Kentigern has returned to Glasgow, Scotland. A page of that manuscript is shown below.