England's Medieval Books of Hours – A New Book from Eamon Duffy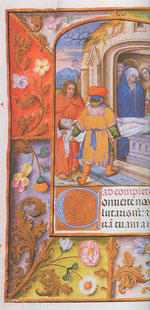 Of all the beautiful manuscripts from the Middle Ages that have survived, none is more common than Books of Hours. In fact, it has been said that "Books of Hours are now more widely scattered around the world than any other object made in the Middle Ages" ( from: "A History of Illuminated Manuscripts
"). Books of hours provided a framework for lay people to practice monastic devotional routines. After the upheaval of the Black Death in the 14th century, the popularity of the form surged and, by the later Middle Ages, these books were mass produced. One of the most famous and finely painted Book of Hours is the Très Riches Heures. My favorite illustration, however, is from the Hours of Catherine of Cleves, Duchess of Guelders (1417-1476). Shown below, this miniature shows an angel leading figures out of the mouth of Hell.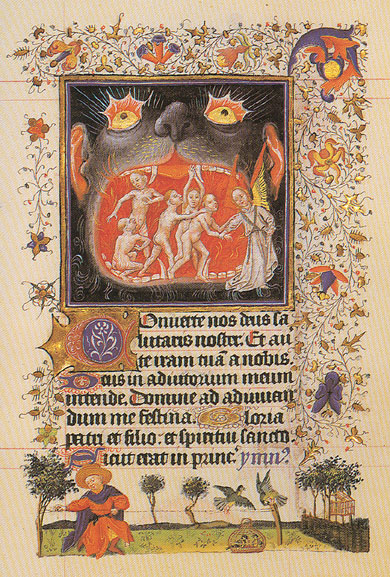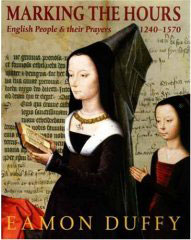 If you're a fan of this type of illustration and calligraphy as I am, you'll want to get your hands on a copy of a new book published on the Books of Hours by the religious historian Eamon Duffy. "Marking the Hours: English People and Their Prayers, 1240-1570
" was reviewed in The Guardian recently. Duffy's new book emphasizes the individual owners of these books. He's most interested in the personal comments as well as the inclusion of commissioned images of the owners themselves in the beautiful miniatures. These additions are rare glimpses into the individual minds of people from the Middle Ages. From that review:
In the Middle Ages if you were female, comfortably-off and hoped to go to heaven then you almost certainly possessed a Book of Hours. Tucked up your sleeve or kept close by in a special place, the Book was your spiritual guide to the ordinary day. It didn't speak intimately, nor was it interested in your particular circumstances. Instead it marked the passing of the liturgical "hours" – Matins, Prime, Vespers – giving you a set of prayers and psalms to raise your spirits as you negotiated a schedule more immediately concerned with sulky servants and sickly children than the glories of the Risen Christ.
The review in The Guardian continues:
The kinds of scrawls that people added to their Book of Hours included the names of favourite saints – Apollonia was good for toothache, while Zita was helpful with lost keys. If you were sufficiently rich and important you could get the artist to include a specially commissioned picture of yourself at the front of the book perhaps even – tricksy this – showing yourself reading the very Book of Hours in which you now metaphorically resided. There was even the option of getting yourself inserted into standard biblical scenes. One woman had herself painted as a spectator at the Annunciation, muscling in on Mary and Gabriel's special moment. Others, more tactfully, waited until the Virgin was actually in heaven and had themselves painted floating on a nearby cloud.
I find this type of history fascinating and I've already pre-ordered my copy of Duffy's book.
[tags]book of hours, eamon duffy, illuminated manuscript, calligraphy, medieval history, middle ages[/tags]