Joan of Arc at the Corcoran Gallery of Art in Washington, DC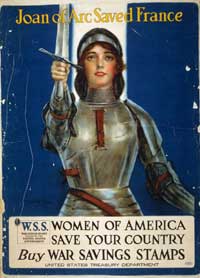 From November 18, 2006 through January 21, 2007, the Corcoran Gallery of Art in Washington, D.C. is presenting an exhibition on Joan of Arc (ce 1412-1431). There aren't many historical figures with a more interesting resume than Joan of Arc. What's more fun than a cross-dressing religious fanatic warrior who is burned at the stake and later made a saint. It's good stuff and it has been an artistic inspiration for many over the centuries. From the gallery web site:
The exhibition surveys more than 200 French and American works produced over five centuries, including paintings, sculpture, illustrated books and manuscripts, textiles and popular art on loan from major institutions, including the Metropolitan Museum of Art, the National Gallery of Art, the John and Mable Ringling Museum, the Library of Congress, Harvard University, the Boston Public Library and Columbia University. These varied loans contextualize Boutet de Monvel's Joan of Arc works in the Corcoran's collection.
This represents a unique opportunity in the Washington, D.C. area to see illuminated manuscripts from a variety of institutions. In addition, it's interesting to see the form that the Joan of Arc story has taken over the centuries.
[tags]illuminated manuscript, Corcoran Gallery of Art, Joan of Arc, medieval history, 15th century[/tags]