A Manuscript from the Dark Ages – The Apicius Cookbook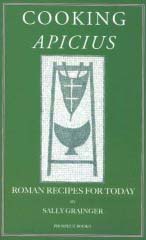 If you watched CBS Sunday Morning today you saw a segment entitled "The Art of the Cookbook" that featured "The Apicus". There are two known copies of "The Apicius". The Vatican holds the oldest copy. The manuscipt shown on CBS is from the 9th century and is owned the The New York Academy of Medicine. The original book was is credited to Marcus Gavius Apiciusin who was a notorius Roman foodie from the first century. Most historians, however, believe he is not the actual author of this only surviving Roman cookbook containing 500 recipes.
There have been many modern translations of "The Apicius" over the years. This site offers a list of the common herbs and seasonings described in the book. Perhaps the best source on the internet on this book is available from the University of Chicago web site where selections from a 1936 text are available. "Cooking Apicus: Roman Recipes for Today"
is a well reviewed lay text. If you're a hard core history food enthusiast you might want to find a copy of "Apicius, a Critical Edition With an Introduction And English Translation"
. Either way, this manuscript is another example of how the monks of medieval Europe preserved history.
[tags]CBS News Sunday Morning, Apicius, 10th century manuscipt, Roman Cookbook[/tags]